1. Apresentação
Em breve
2. Objetivos
Qualificar em alto nível engenheiros atuantes no setor automotivo, especialmente, no que se refere à eletrônica embarcada.
3. Público alvo
Engenheiros Elétricos, Mecânicos, Mecatrônicos e afins.
4. Idioma
Português
5. Programação
This series of seminars will attempt to cover all key aspects of the development of electronic systems for modern cars. This is an extremely wide subject and it'd not be realistic to cover it at depth in all its aspects.
Hence, the focus will follow the point of the view of the electronics engineer wishing to get acquainted with the opportunities and challenges related to the design of hardware.
Digital hardware (microprocessors, memory, SoCs) will be discussed without going into details.
The majority of the slides describe the issues, techniques and methodologies useful for sensing, power regulation and distribution, and analog signal processing.
day 1 – 4h – Introduction – Automotive Electronic Systems
Automotive Market – Past, Present and Future
Electronics – What Kind of Electronics are found in Modern Cars
Automotive Electronics Product Requirements – Cost, Quality, Safety, Reliability, Time to Market
Electrical and Electronics Engineering – Critical Concepts for Automotive Systems
day 2 – 3h – Systems, Components and Devices – Modeling and Simulation
Fundamental Concepts – What is "simulation", "modeling" and "simulators"
Models of Computation – Continuous, Discrete (What's "time"?)
System-Level Simulation – Tools and Techniques (Matlab, Simulink, Labview: Buy them all?)
Component-Level Simulation – Behavioral or Structural ? Hardware Description Languages
Device-Level Simulation – Physics-based modeling (Finite Element)
Circuit Simulation and Modeling – SPICE and its siblings
SPICE models of key semiconductor devices – Diode, BJT, MOSFET
day 2 – 3h – High temperature electronic design
Operation and Modeling of Electrical Circuits under Temperature Variations
Passive devices – Resistors, Capacitors, Inductors
Active devices – Diodes, Metal-oxide devices
Heat, Power and Electronics Circuit Reliability
Circuit board materials, interconnection and packaging considerations for high temperature operation
day 3 – 3h – Electromagnetic Compatibility (EMC) for the automotive environment
Sources of electromagnetic disturbances in the automotive environment
Limiting emissions – Avoiding and Limiting Aggressive Behavior
Resisting aggression – Passive and Active Defense Techniques
Compliance – Respect of Rules & Regulations
day 3 – 3h – Smart power eletronics for automotive
Typical Car Electrical Power Architecture – Storage, Generation, Distribution, Regulation
Automotive Power Sources – Alternator, Batteries
Automotive Power Loads – Motors, Actuators
Discrete Semiconductor Power Devices – BJT, MOSFETs, IGBJT
Integrated Semiconductor Power Devices – DTMOS, LDMOS
Wide Bandgap Semiconductor Power Devices – SiC, GaN
Smart Power Circuits – Drivers and Converters
day 4 – 4h – IC Design Considerations & Methodologies for Automotive Electronics
Semiconductor fabrication technologies – Capabilities, costs, standards
Automotive IC requirements – Temperature, Lifetime, Safety, Cost
Resiliency against temperature – Tools and Techniques: Fighting leakers
Resiliency against the enemy outside – Electrostatic Discharge
Resiliency against the enemy inside – Latch-up
Bibliography
Najamuz Zaman; Automotive Electronics Design Fundamentals ISBN 978-3-319-17583-6
Makarov, Ludwig,Bitar; Practical Electrical Engineering ISBN 978-3-319-21172-5
Liang, Samudra, Huang; Power microelectronics : device and process technologies ISBN 9789813200241
Amerasekera,Duvvury; ESD in Silicon Integrated Circuits, ISBN 0-471-49871-8
Mardiguian; Electrostatic Discharge, ISBN 978-0470-39704-6
Cressler, Mantooth ; Extreme Environment Electronics ISBN 978-1-4398-7430-1
Cooper ; The Designer's Guide to Analog & Mixed-Signal Modeling Illustrated with VHDL-AMS and MAST
Vladimirescu; The SPICE Book, ISBN 0-471-60926-9
Clayton ; Introduction to electromagnetic compatibility ISBN 978-0-471-75500-5
El-Hawary ; Principles of Electric Machines with Power Electronic Applications ISBN 0-471-20812-4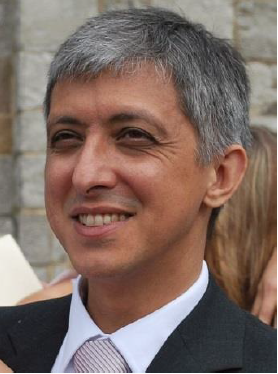 resumè
Prof. Dr. Filipe Vinci
7. Data e Carga Horária
20h/a
8. Investimento e Convênios
Em breve
Depoimentos